Royal Blue Wildlife Management Area

by RBRsPhotos
Spanning around exit 144 on Interstate 75, Royal Blue Wildlife Management Area features over fifty three thousand (53,000) acres of mountain forests with elevations reaching to three thousand two hundred (3,200) feet. It is home to a substantial population of whitetail deer, wild turkeys, beavers, and squirrels, an occasional black bear and now elk. The recent reintroduction of elk to the area has brought much excitement and more are to be released in the near future. Numerous ponds provide water for the land animals and also draw blue gill fisherman, Canada geese and great blue herons. Many other species of birds are prevalent in the area. Over six hundred (600) miles of roads, many blazed when the area was mined and logged, now entice riders of mountain bikes and off-highway vehicles (ohv's) to experience nature rebuilding itself. Great place to bring your family or group to have some great off road fun and adventure, East Tennessees Riding At It's Best. Royal Blue WMA is open year round to the public. Lodging is close by Ride Royal Blue ATV Guest Resort & Campground. User fees are required for the use of off-highway vehicles. Fees can be paid at any location in Tennessee that sells hunting and/or fishing license. Visitors to the area are randomly checked and fines may result in noncompliance.

Linked Trails
With Royal Blue WMA being located almost right in the middle, there are four
riding areas linked together. Many people are not really aware of this fact. Starting on the north side is New River WMA, Royal Blue WMA, Sundquist. Totaling one hundred fifty thousand acres and hundreds of miles of trails. You can start at one end and ride your ATV through each of these areas, but make sure to bring plenty of food and water and fuel.
| | |
| --- | --- |
| | Support your 2nd Amendment rights, NRA and the Royal Blue Rangers. |
Sundquist Wildlife Management Area
Seventy-four thousand (74,000) acres of mountain land and high pastures, known as the Sundquist Wildlife Management Area, provides a home to a growing population of reintroduced elk, white tails, grouse, turkeys, and non-game bird species in addition to aquatic species. Collectively with the Royal Blue WMA, the newly acquired land is known as the Cumberland Forrest and has been officially placed under the ownership of the Tennessee Wildlife Resources Agency ( TWRA ). Sportsmen and outdoor enthusiasts now have one hundred twenty seven thousand (150,000) acres to roam and camp. Such a continuous expanse of forest land that is saved for wildlife but also available for public use is rare indeed. This vast expanse of forest provides important habitat for several rare and endangered species, both terrestrial and aquatic. Recent surveys of the area indicate that the project area harbors the most significant breeding population of golden-winged warblers in the southeastern United States. Visitors to the area may, also witness several other species of rare songbirds. Off highway vehicles are allowed; however, a user fee is required and may be obtained wherever hunting and/or fishing license are sold.
Fishers ATV World And Lucas Oil visit Ride Royal Blue ATV Resort August 24, 2010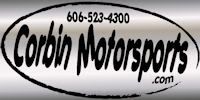 Corbin Motorsports Polaris & Victory Dealer
(606) 523-4300, Kentucky's Largest Polaris Side X Side Dealer Great Prices Excellant Parts And Service. Located In Corbin,Kentucky Just 2 Miles Off Corbin Exit 29, 14453 N US Hwy 25E * Corbin, Kentucky 40701.
Fishers ATV World Visits Ride Royal Blue ATV Resort & Campground June 29, 30th and July 1st 2009
Summer RBR Rides 2009.wmv